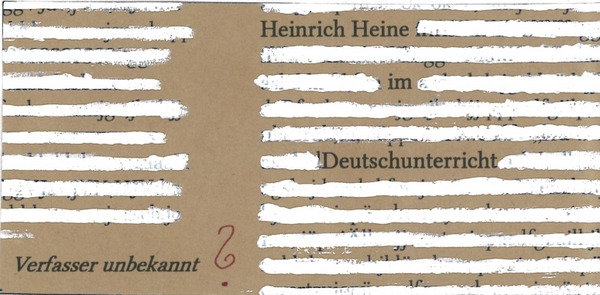 "Author Unknown"?" Heinrich Heine in German Lessons
After working in Mecklenburg-Vorpommern in 2017, the Humanities Lab is going on tour again: the first part of the Autumn Series 2023 will take place and is aimed at schools in Hamburg. Our cooperation partner is the Heine-Haus e.V. in Ottensen. The historic garden house on Elbchaussee belonged to the Salomon Heine estate, Heinrich's wealthy uncle. Given that it reflects essential aspects of the author's personal history, a more suitable location for this event series is hard to imagine. In addition, the main Academy building in Gendarmenmarkt Berlin, where the second part of the series will take place from mid-November, also has a reference to Heine: the restored historic clock that has been installed in the lobby for several years, which was originally located at the main gate of the Academy building in Unter den Linden in 1787 and is also mentioned in Heine's "Letters from Berlin" (1822) as the city's only standard clock at the time.
"Author unknown": Recent research has been unable to confirm the use of the infamous formula to anonymise the author of "Loreley" in anthologies from the time of National Socialism. However, there is no dispute that Heine's history as an author studied in schools was, and still is, full of twists and contradictions, even after World War II. The project examines and questions this formula and develops a research interest from it. The question that will be investigated is whether Heine is again or still unknown to young readers today. The curriculum frameworks and focus of exams in both federal states, in which he has hardly been mentioned for years, certainly suggest this working hypothesis.
The absence of Heine in German lessons is thus a central concern. In addition, like every series in the Humanities Lab events, the project pursues a methodological or meta-scientific aim, i.e. that students should gain an exemplary insight into practices of literary canonisation, which are an essential part of school curricula. Therefore, the joint examination and critical analysis of German curricula, teaching materials, and guidelines are on the programme, so that the students, who are otherwise perceived as the 'target group' of didactic interventions, this time become subjects of aesthetic and academic education.
Workshops for German courses (advanced level) at schools in Hamburg:
Tuesday 31 October 2023
Thursday 2 November 2023
Monday 6 November 2023
Wednesday 8 November 2023
Friday 10 November 2023
Duration of event: 10 a.m. to 2 p.m
Venue: Heine-Haus e.V., Elbchaussee 31, 22765 Hamburg
Workshops for advanced courses in German at schools in Berlin:
Tuesday, November 14, 2023
Thursday, November 16, 2023
Tuesday, November 21, 2023
Monday 4th December 2023
Tuesday, December 12, 2023
Friday December 15, 2023
Monday 18 December 2023
Wednesday 20 December 2023
Event duration: 9 a.m. to 1 p.m
Venue: Berlin-Brandenburg Academy of Sciences, Jägerstr. 22/23, 10117 Berlin
Registration
from September 6, 2023 by email at schuelerlabor(at)bbaw.de
The series of events is funded by the Claussen Simon Foundation.

---